Anthony Bourdain Food Trail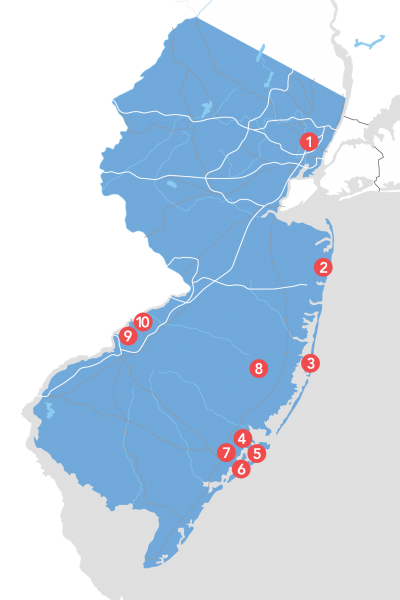 Discover the New Jersey culinary roots of the late Anthony Bourdain, celebrity chef, best-selling author and globe-trotting food and travel documentarian, on this designated food trail. The Anthony Bourdain Food Trail pays tribute to Bourdain's childhood growing up in Leonia, New Jersey, and summers spent at the Jersey Shore. The trail spotlights 10 New Jersey restaurants featured on CNN's Emmy Award-winning Anthony Bourdain: Parts Unknown.

Click below to get the Trip Itinerary, featuring every trail stop, plus destination highlights and must-do activities along the way:
NORTH JERSEY
1345 Palisade Ave., Fort Lee, NJ 07024 | restaurantsnapshot.com/HiramsRoadstand
"This is my happy place," said Bourdain about this Fort Lee institution. Hiram's has been slinging classic "ripper-style" (deep-fried) hot dogs since the 1930s. 

 
JERSEY SHORE
1406 Main St., Asbury Park, NJ 07712 | franksdelinj.com
The place to pick up overstuffed sandwiches on the way to the beach. "As I always like to say, good is good forever," said Bourdain about Frank's. Try the classic Jersey sandwich: sliced ham, provolone, tomato, onions, shredded lettuce, roasted peppers, oil and vinegar. 
3. Kubel's, Barnegat Light
28 W. 7th St., Barnegat Light, NJ 08008 | kubelsbarnegatlight.com
Bourdain grew up eating clams at the Jersey Shore, so this seaside restaurant, a Long Beach Island tradition since 1927, was a natural. Dig in to the New England clam chowder and fried clams.
2405 Atlantic Ave., Atlantic City, NJ 08401 | docksoysterhouse.com
"Dock's Oyster House, an establishment that survived Prohibition, the Great Depression, two world wars, numerous declines and rebirths—still here, still great." You'll appreciate Bourdain's words as you sample from the daily oyster selection or enjoy the signature crab-stuffed lobster. Owned and operated by the Dougherty family since 1897.
3600 Atlantic Ave., Atlantic City, NJ 08401 | knifeandforkinn.com
Another Atlantic City landmark. Established in 1912, the Knife & Fork Inn has been renovated to maintain its retro Prohibition-era vibe and is now owned by the Dougherty Family of Dock's Oyster House fame. Known for seafood, steaks and an extensive wine list.
2800 Atlantic Ave., Atlantic City, NJ 08401 | tonysbaltimoregrillac.com
This AC icon has been open since 1927 and is known for its late-night pizza and comforting pasta dishes. Bourdain was known for "being very sentimental about Jersey Italian."
1519 Boardwalk, Atlantic City, NJ 08401 | jamescandy.com
It's not a trip to the Shore without a stop for the timeless, original salt water taffy. With his typical candor, Bourdain said, "I hate sweets, but I'm a sucker for nostalgia" when visiting this boardwalk institution.


 
SOUTH JERSEY
1496 Rte. 539, Barnegat, NJ 08005 | facebook.com/Lucillescountrycooking
On his travels through South Jersey, Bourdain discovered this throwback lunch counter serving homestyle food in the Pine Barrens. Check out the Jersey Devil memorabilia, bountiful breakfasts and homemade pies.
1223 Haddon Ave., Camden, NJ 08103 | donkeysplace.com
Try the cheesesteak that Bourdain claimed "should be a national landmark." Serving Camden for more than 75 years (and holder of a key to the city), Donkey's offers a Jersey-style cheesesteak with fried onions, American cheese and optional crushed red cherry peppers on a poppy seed roll.
837 N. 8th St., Camden, NJ 08102 | facebook.com/Tony-Ruths-Steaks-371717369667092
Authentic local spot serving cheesesteaks and breakfast sandwiches in Northern Camden.
Save a printable version of this page, and keep these Anthony Bourdain Food Trail stops ready for sampling!