Image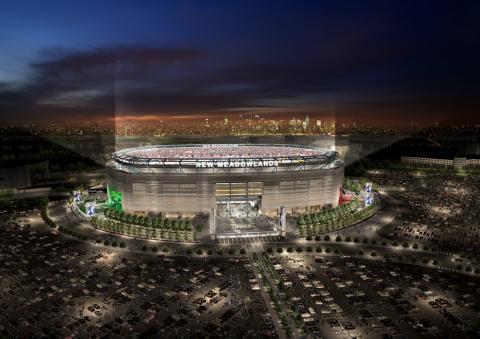 MetLife Stadium
Since its opening, MetLife Stadium has become a highly sought after venue for special events, sports competitions and much more. Home of the NFL's Super Bowl Champion New York Giants and the New York Jets, MetLife Stadium is a versatile complex that can fit any event planners needs.
Year-Round Sports, Entertainment and More
Looking for the optimal mix of accessibility, state-of-the-art amenities and first-class dining for special events in the tri-state area? Look at MetLife Stadium Complex, home of the NFL's Super Bowl Champion New York Giants (2008, 2012) and the New York Jets.
Located in the shadow of midtown Manhattan, MetLife Stadium is easily reachable by car or rail and minutes from two airports. The complex offers versatile year-round indoor and outdoor spaces tailored to any event or gathering, for parties as small as 50 or as large as 10,000.
The lavish interior spaces include the 15,000-square-foot Commissioners Club and the 20,000-square-foot Coaches Club. Each is handsomely appointed and equipped with the latest audio-visual technology, world-class catering and special event capabilities. The facility also offers the larger Lexus and Chase Clubs, with more than 40,000 square feet each. The clubs have breathtaking views of the stadium interior and the New York skyline, while the Great Hall option gives easy access to the complex's ample parking lots.
For outdoor events, the 300,000-square-foot plaza area accommodates groups looking for team building or outdoor gatherings in the open air or fully tented spaces. While sports and entertainment fans worldwide know the complex for memorable on-field moments, the facility will also make an impact off the field, where a new level of experiential entertaining and hospitality will set an unparalleled standard of excellence at the $1.6-billion, 82,500-seat MetLife Stadium.
To make it more convenient for all fans, NJ TRANSIT has rail service to MetLife Stadium through the Frank R. Lautenberg Station at Secaucus Junction. It's the only stop between Hoboken and the stadium that provides the connection. Train service operates frequently both before and after major events that are expected to draw 50,000 or more spectators. These events include all Jets and Giants pre-season and regular season home games, major concerts, Gold Cup soccer and college sporting events at MetLife Stadium.