Image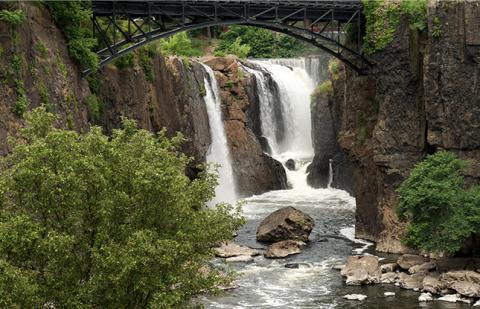 "Fall" In Love: Discover 20 New Jersey Waterfalls
Our "Garden State" is known for rolling farmland, green pastures and blooming orchards. While you can certainly find those panoramas dotting New Jersey, there is also an abundance of natural wonders to be discovered—including 20 waterfalls you're sure to love.
Apshawa Preserve Falls, West Milford | Nestled into the 594-acre Apshawa Preserve, these falls are created by natural cascades along Apshawa Brook. The preserve is an idyllic destination for hikers, birders and nature enthusiasts.
Boonton Falls, Boonton | Witness the might of the Rockaway River at Boonton Falls, located at the north end of Grace Lord Park. Blast from the Past: Spot historical ruins of the industrial sites that were long-ago powered by the falls.
Bridal Veil Falls, North Haledon | Located on the outskirts of the William Paterson University campus, Bridal Veil Falls freefall 40 feet into a sandstone quarry. In freezing temperatures, the falls resemble an icy fortress.
Buttermilk Falls, Layton | Hike the 1.4-mile Buttermilk Falls Trail in the Delaware Water Gap National Recreation Area. In addition to ascending 1,104 feet high, you'll get a breathtaking view of Buttermilk Falls.
Chikahoki Falls, Bloomingdale | In the heart of Norvin Green State Forest lies Chikahoki Falls, along with woodlands and rocky vistas. Helpful Hint: Make sure to map out your journey and choose your happy trails.
Dunnfield Creek Falls, Columbia | Discover this waterfall at Worthington State Forest. Follow the Dunnfield Creek Trail to spy several small waterfalls along with a natural glacial lake.
Greenbrook Falls, Tenafly | Become a Palisades Nature Association member to access the 165-acre Greenbrook Sanctuary and see the 250-foot-high waterfall as it tumbles into the Hudson River. 
Hacklebarney State Park Falls, Long Valley | Experience the great outdoors at Hacklebarney State Park across its nine trails. Top Tip: The Riverside and Waterfall Trails offer the best waterfall views.
Hemlock Falls, Millburn | The 25-foot-high Hemlock Falls is buried deep in the woods at South Mountain Reservation. Though you'll feel a world away from it all, you can also take in the NYC vistas from its eastern ridge.
Laurel Falls, Columbia | Find this rocky cascade in Worthington State Forest when you set a course for the 1.7-mile Douglas Trail.
Paterson Great Falls, Paterson | At Paterson Great Falls National Historical Park, the Passaic River plunges 77 feet over basalt cliffs that have remained virtually unchanged over 12,000 – 14,000 years.
Ramapo Falls, Mahwah | At 4,000 acres, Ramapo Valley County Reservation is Bergen's largest park area. Find your way to the waterfalls via the Vista Loop.
Schooley's Mountain Falls, Long Valley | You don't have to hike very far into Schooley's Mountain County Park to get a big payoff—just follow the blue Falling Waters Trail, less than half a mile from the trailhead.
Silver Spray Falls, Layton | The lesser-known of the Delaware Water Gap National Recreation Area's waterfalls, this cascade is sometimes called "Hidden Falls." Insider Insight: From Buttermilk Falls Parking Lot, walk a half mile north on Mountain Road to an unmarked trailhead—placing you just a quarter-mile from Silver Spray Falls.
Stepping Stone Falls, Branchville | Witness fresh water spilling down a natural staircase in Stokes State Forest. You'll want to follow the 2.8-mile Stony Brook Trail to experience Stepping Stone Falls.
Tillman Ravine Falls, Branchville | Another must-hike site in Stokes State Forest is the Tillman Ravine Trail, featuring classic cascades as well as "the teacup" (found here), a geological feature formed by swirling water, sand and rock. 
Tumble Falls, series of waterfalls between Frenchtown and Stockton | Following Route 29, one of the most scenic roadways in New Jersey, you'll find this trio of waterfalls along your drive.
Van Campen Glen Falls, Warren | Follow the Van Campen Glen Trail (see #13 on this map) in the Delaware Water Gap National Recreation Area to discover these falls. 
Watchung Reservation Waterfall, Mountainside | Embark on a relatively flat, family-friendly hike—complete with waterfall views—on the Lake Surprise Loop in Watchung Reservation.
Wyanokie Falls, Ringwood | Follow Norvin Green State Forest's 1.3-mile Roomy Mine Trail to traverse the Blue Mine Brook, which cascades at the falls and flows south to Wanaque Reservoir.  
Looking for more year-round outdoor fun? Download our free Official Travel Guide today.