Image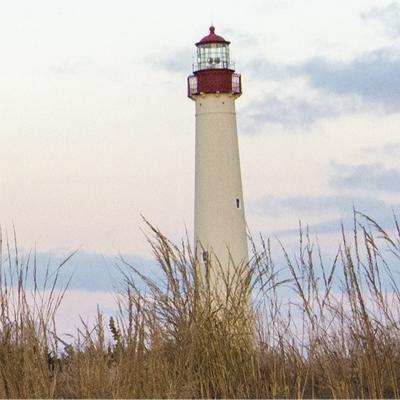 Welcome the symbols of summer: beaches, boardwalks and lighthouses!
Whether you're into surfing or sandcastle architecture, Skee-Ball or frozen custard, seafaring history or spectacular ocean views, the Jersey Shore captures the carefree spirit of summer. Along New Jersey's 130 miles of Atlantic Ocean coastline, discover the classic trio of the season: beaches, boardwalks and lighthouses.
Hit the boards for nostalgia, thrills and funnel cakes

Do you prefer a peaceful stroll by the ocean or a walk on the wild side? Whatever your style, there's a Jersey Shore boardwalk for you. For a relaxed promenade, consider Spring Lake's two-mile, uninterrupted stretch of commercial-free boards. The boardwalk at Belmar attracts walkers and runners, while Avalon's 10-block stretch, bordered by dunes and thick vegetation, feels like a nature walk. Another unspoiled boardwalk setting is the Fisherman's Walkway at Island Beach State Park, which winds through bayberry and beach plum and offers beach access for both bluefish anglers and people in wheelchairs.



Thrill-seekers will want to venture out to Seaside Heights' wooden boardwalk, home to the Casino Pier & Breakwater Beach Waterpark featuring amusement rides, mini golf and water slides galore. Two favorites for families are Jenkinson's Boardwalk in Point Pleasant Beach (don't miss the Wave Swinger) and Ocean City's boardwalk, with two-and-a-half miles of family entertainment. Looking for super-sized boardwalk fun? Atlantic City's four-mile stretch offers something for everyone, from saltwater taffy to luxury boutiques, casino gaming to glow-in-the-dark mini golf, and rolling chairs to concerts at Boardwalk Hall. Take a walking tour of the nation's first and longest boardwalk!
Step on up (and up) for the best views by the Shore



A symbol of protection, guidance and hope, the lighthouse is one of America's most beloved icons. If you're looking for a day trip or weekend jaunt, check out lighthouses open to the public in New Jersey. Start your journey at Tuckerton Seaport & Baymen's Museum, where you can explore Tucker's Island Lighthouse before venturing to the state's tallest lighthouse in Absecon for an expansive view of Atlantic City. Finally, wrap up your illuminating sojourn at Cape May Lighthouse, the guiding light that keeps ships from running aground at our southernmost point. 

Find your beach personality—from serene to sporting



Nothing says summer like a day at the beach. Offering more than 60 designated beaches, each with its own personality, New Jersey makes it easy to find the beach that expresses your sand-and-surf character. Want the local angle on fishing? Try Island Beach State Park or Brigantine. Like natural settings? Visit the miles of beach at Sandy Hook Gateway National Recreation Area, which also features hiking trails, bike paths, salt marshes, a spectacular holly forest and more than 300 species of birds. Family in tow? Long Beach Island, Ocean City and The Wildwoods are just your speed. Looking for some well-deserved peace and quiet? Escape to Avon-by-the-Sea or Avalon. You can also get a head start on the fall surfing season with trips to Belmar and Seaside Heights. 

The best symbol of summer is smart planning. Be sure to check the official websites or social media pages for the sites you plan to visit before you visit so you can get the greatest enjoyment from your time in the sun.