Image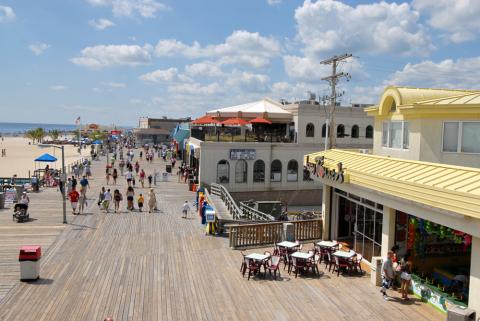 The Boardwalk and Beach at Point Pleasant Beach
Families will find non-stop fun along the boardwalk at Point Pleasant Beach.
A family seashore town, Point Pleasant Beach lives up to its name with a mile long boardwalk bordering the Atlantic Ocean that is home to Jenkinson's Boardwalk Amusements, a fun house, a Victorian Ice Cream Parlor, four arcades, gift shops and games of chance.
For those wanting some active play, there are three miniature golf courses including the Cast Away Cove Adventure Miniature Course. Jenkinson's Aquarium is also on the boardwalk, providing an air conditioned break from a hot summer day and an opportunity to see not only exotic fish from the tropics, penguins, parrots and sharks, but also a rare opportunity to catch a glimpse of those cold water fish that are native to the New Jersey coast. During the summer free entertainment and special events run from Sunday through Friday. You might encounter a radio personality and movies or concerts on the beach. For the youngsters there are kiddie beach shows, Radio Disney events, arts and crafts, Hermit Crab races, weekly fireworks and pay-one-price amusement evenings and days.
The River Belle Paddle Wheeler adds Pizza and Fireworks Cruises to its schedule, which also includes buffet, lunch, brunch and dinner cruises, adding the bonus of a murder mystery cruise now and them. There are sightseeing cruises afternoons and events as well. Just off the boardwalk visitors can fly high above the beach with Point Pleasant Parasail. And for anglers there are many sport fishing boats that ply the offshore ocean waters. For a lively night life, there's Jenkinson's Boardwalk offers your family a wide range of activities. Whether you are visiting for the day or the entire summer, you will always find something to excite every member of your family.
From free weekly events to yearly festivals, there is always something extraordinary to experience here at Jenkinson's. Jenkinson's Pavilion and Martell's Tiki Bar, in addition to three full service restaurants with ocean views there's live entertainment. Downtown is a very walkable six blocks from the boardwalk. There visitors will find boutique shops and Antique Emporium, which features 40 independent dealers under one roof, many in specialized areas. Nights will find laughs at Uncle Vinnie's Comedy Club. Restaurant row offers a variety of seafood establishments and nearby are party boats, charter boats and a commercial fishing fleet, making a nautical setting along Channel Dr.
Accommodations range from motels to resort hotels to an array of BB's and summer rentals. Adjacent to Point Pleasant Beach is the shore village of Bay Head, which offers galleries and boutique shops and excellent accommodations at the Bay Head Sands, the Historic Grenville Hotel and Restaurant and the Bentley Inn.