Image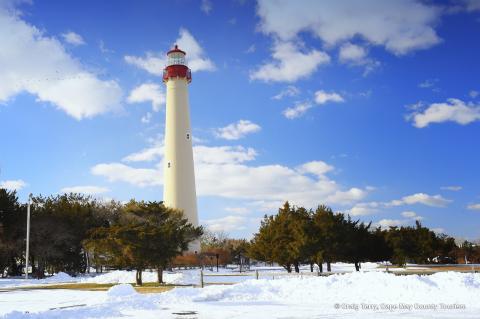 Escape to Cape May County, New Jersey This Winter
On the way to Cape May County? You should be! Postcard-perfect and so beloved, this splendid destination completes the title of a Jersey Shore anthem. For more than two centuries, its white-sand beaches have lured people seeking sunny summer vibes, refined by friendly hospitality. In fact, you'll find America's first seaside resort right here. Cape May's iconic Congress Hall began hosting guests in 1816.
But even in the coolness of winter, you'll delight in pure paradise in every direction, not to mention plenty of recreation. Part of New Jersey's Southern Shore Region, some of Cape May County's legendary towns include Avalon, Cape May, Ocean City, Sea Isle City, Stone Harbor, West Cape May and The Wildwoods. 
They're open all year and amazing each and every day. Keep reading to learn more about Cape May County. Then, plan your next winter break ASAP—and get a head start on your summer vacation, too!
Be Refreshed, Outdoors Alongside the Ocean 
Take advantage of ample opportunities to reenergize alfresco. With options that are among the world's best, Cape May County's beaches and boardwalks are a must-do in any month. Stroll the spectacular shoreline and trails, and treasure Atlantic views and that brisk sea breeze. Dip into a range of nature-based activities, including beachcombing, shelling and biking. 
Score truly homemade souvenirs: "Cape May Diamonds." Actually pure quartz crystals, these sparkling stones appear just like real diamonds when cut and faceted. Hit the mother lode on the sands of Sunset Beach in Cape May Point, where you can have a local shop polish, add facets to and set your finds, or buy them as pre-made jewelry.
Want a loftier look? Climb 199 steps inside the 1859 Cape May Lighthouse, open on select dates at Cape May Point State Park, for an awe-inspiring Jersey Cape and Delaware Bay panorama. 
 
Walk on the Wild Side
Shake off your own winter hibernation, and go spot a wide variety of birds and other wildlife. Cape May National Wildlife Refuge provides a vital habitat for hundreds of bird, mammal, reptile and amphibian species, as well as numerous fish, shellfish and other invertebrates. At the Cape May Bird Observatory, discover why this is a National Geographic World's Best destination for watching feathered friends take flight. Pro tip: Bring binoculars!
Free and open daily, the Cape May County Park & Zoo makes a wonderful day out for the entire family. Come face to face with a world's worth of fascinating animals, such as the African lion, American black bear and North American river otter. Say "hello" to the alpaca, monkey, giraffe, snow leopard, zebra, red panda, scarlet ibis and other favorites.
 
Treat Yourself and Your Travel Companions
Cape May County boasts superb shopping, from community-handcrafted to chic designer goods, in hundreds of boutiques and galleries peddling art, fashion, books, décor, treats, toys and more. Browse eclectic neighborhoods like 96th Street in Stone Harbor, Dune Drive in Avalon, Asbury Avenue in Ocean City and Washington Street Mall in Cape May. 
Indulge in Cape May County's tempting dining options, which encompass casual to gourmet, quintessential local dishes to global delicacies. Sample the region's incredible breweries, wineries and distilleries. Cozy up to toasty Fire Pit Fridays at Willow Creek Winery (West Cape May). Listen to live music while savoring locally grown, produced and bottled wines and farm-fresh grill fare.
Many fabulous spas promise the ultimate decadence. Luxuriate in soothing treatments at Spa Avalon, Cape May Day Spa, Salt Spa at The Reeds (Stone Harbor), Sea Spa at Congress Hall (Cape May) and more.
 
Check the Cape May County Calendar
From enlightening tours, to family fun events, farmers markets and festivals, to live music and theater, there's always something happening.
This winter, travel through time—and Cape May's Historic District streets—with a themed trolley tour. You'll adore its renowned Victorian architectural legacy of nearly 600 restored homes, inns, hotels, churches and buildings. Cape May MAC is a great source for tours and events that spotlight the area's history, art and culture, featuring popular sites like the 1879 Emlen Physick Estate.
Enjoy Crafts & Collectibles shows offering high-quality wares from exceptional crafters and vendors. The winter edition takes place February 19-20 at Cape May Convention Hall.
 
Sleep Over to Experience Everything You Can
Upscale elegance to budget-friendly comfort, design the getaway that suits your style. For National Historic Landmark flair, Cape May's colorful Victorian homes ("Painted Ladies") make dreamy bed and breakfasts and inns. Wildwood's vibrantly vintage Doo-Wop motels will bring a smile to your face. Or choose from an array of unique hotel accommodations or tranquil campsites, cabins and cottages.
 
Open Year-Round—But Visit Now
What are you waiting for? Create your winter escape today! And remember, summer will be here before you know it. Plan ahead to experience Cape May County when the weather heats up, along with the action on the boardwalks and piers, in the water and at local attractions.