Image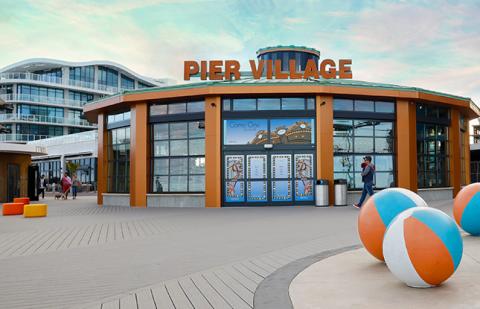 Winter Fun In Long Branch: What's On For "Off Season"
Ulysses S. Grant and six other presidents made Long Branch their summer vacation haven, but this former Gilded Age hotspot in New Jersey's Shore Region is anything but old-school. It's shed its past-century glory in favor of a fresh 21st-century vibe that welcomes year-round exploration. If you're ready to discover what's on during the "off season" at the Jersey Shore, start with Long Branch and these seasonal ideas from New Jersey Travel & Tourism.
It Takes a Village
One of the reasons Long Branch is gaining a reputation for stylish seaside leisure is Pier Village. This beach area has been reinvented into a luxury mixed-used complex with boutique shops, restaurants, condos and apartments, and now two high-style hotels. While some of the shops and restaurants close for the winter season, many are open for your day trip or overnight escape. Pick up the latest trends at Molly & Zoey and Wish, enjoy banana bread and a specialty coffee at BuzzBait, and dig into fresh flavors at Art of Salad, Simply Greek and Ebb's Coastal Kitchen.
Glide, Game and Ride
Don't miss taking part in Long Branch's favorite winter tradition: Ice at the Pier. The outdoor rink is open Thursday-Sunday through Presidents' Day, and admission and rental skates are available at McCloone's Pier House. Time it right, and you can enjoy end-of-day ocean views and McLoone's popular 10 under 10 Happy Hour promotion (Monday-Friday, 4-6 p.m.). Got restless tweens and teens underfoot? March them over to Boardwalk Fun 'N Games for top-notch arcade games. The younger set (and the young at heart) will go for Pier Village's enchanting new addition: a hand-carved, seaside-themed carousel. Ride astride a dolphin, seahorse or pelican and recapture your Jersey Shore childhood memories. Open Friday evenings, Saturdays and Sundays, the carousel is encased in a glass structure that is closed and heated for a toasty ride. (For more Long Branch family fun, join the adventure room craze. Escape the Puzzle offers seven rooms and gives you 60 minutes to make your escape!)
Experience the New Wave
Riding the wave of exciting new Pier Village projects is Wave Resort, which opened last May. With its distinctive shape and easy access to the beach, Wave Resort is sure to become a Jersey Shore stand-out. All 67 guest rooms feature a walk-out terrace and upscale amenities. Dining options include 100 Ocean, a chef-driven American Mediterranean brasserie. Open daily, Wave Spa is the perfect antidote to a busy day. Signature treatments include Marine Replenishing Body Scrub and Massage and the Beach Massage with therapeutic self-heating marine mud. Joining Wave Resort in Pier Village is the boutique Bungalow Hotel, featuring self-catering rooms with fireplaces and a beachy location just 350 feet from the boardwalk and ocean. In addition to happy hour and live music, the hotel's Bungalounge is now showcasing works from the local art community. Stop by to see the latest installation. Other beachfront accommodations in Long Branch include Ocean Place Resort & Spa.
Catch a World Premiere
Founded in 1997 with the mission to develop and produce new plays for the American stage, the New Jersey Repertory Company has mounted an impressive number of world premieres—more than 60! This winter, you can see two more. The comic-drama Bone on Bone, which runs January 9 through February 9, explores the clash between a happy marriage and a successful career path. The Promotion (March 5-April 5) is a comedy about two friends "surviving in this dog-eat-dog world of business." Plays are staged Thursday-Sunday at the theater, which is located just a few blocks from the beach.
And More to See…
Long Branch is comprised of nine unique districts, so there's plenty to explore beyond Pier Village's beach and boardwalk scene. Head to Seven Presidents Oceanfront Park to take a run with Rover. In winter, admission is free and leashed pets are welcome at this 38-acre beach park. (Speaking of dogs, grab a hot dog and cheese fries at the iconic WindMill!) Visit Monmouth University for arts & culture events. Get a taste of Long Branch's vibrant Brazilian community with a slice of Brazilian-style pizza at BomdMais Luncheonette. (Just steps away, add some bling to your wardrobe at Ta Chic Boutique.) And take a peek into Long Branch's illustrious and presidential past with a drive to Elberon, Long Branch's southernmost section. You'll see stately homes galore, as well as the Church of the Presidents Museum, where local historic renovation efforts are preserving its charming Carpenter Gothic architecture. We think the 18th president would approve.