New Jersey Landmarks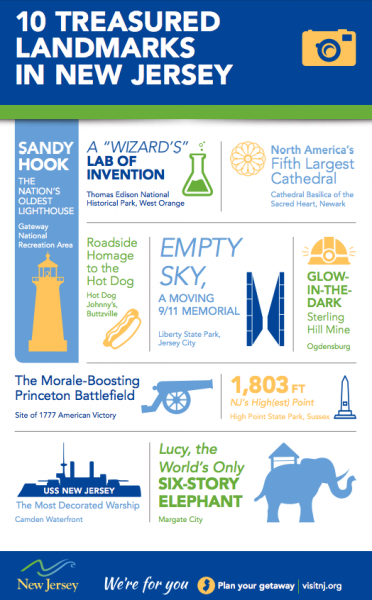 10 Treasured New Jersey Landmarks
This summer, get a history lesson that's uniquely New Jersey! Let this infographic motivate you to visit some of the state's most inspirational landmarks. Download and print—or send as an email to your favorite landmark lovers.
Lucy, the World's Only Six-Story Elephant
New Jersey's beloved Lucy the Elephant is the oldest example of zoomorphic architecture in the U.S. Don't miss the chance to tour this National Historic Landmark in Margate City. "Born" in 1881, Lucy celebrates her birthday every July!
Sandy Hook, the Nation's Oldest Lighthouse
The venerable Sandy Hook Lighthouse has been lighting the way since 1764. Located at the Sandy Hook Unit of Gateway National Recreation Area, the lighthouse is open weekends April-October, plus weekdays in July and August. Each October, you can see Sandy Hook and 10 other lighthouses by participating in the New Jersey Lighthouse Challenge, which helps raise funds and awareness for lighthouse preservation.
USS New Jersey, the Most Decorated Warship
Battleship New Jersey, berthed at the Camden Waterfront, is a floating museum of U.S. Navy history. Take a tour and learn about its illustrious past. Looking for unique accommodations? Your family or group can spend an overnight aboard the battleship. Dinner, breakfast and bunk included.
Empty Sky, a Moving 9/11 Tribute
Overlooking Lower Manhattan and the harbor, Empty Sky, 9/11 Memorial remembers those lost while connecting New Jersey to Ground Zero in a simple and powerful way. Located in Liberty State Park, it is a memorial not to be missed.
A "Wizard's" Lab of Invention
See how modern America was invented by exploring the lab of the "Wizard of Menlo Park" at Thomas Edison National Historical Park. You'll learn about Edison's most enduring inventions, including the light bulb, the phonograph and the motion picture camera.
The Morale-Boosting Princeton Battlefield
While you go birding, hiking or picnicking at Princeton Battlefield State Park, keep in mind that this National Historic Landmark was the site of a significant 1777 victory for the Americans, one that helped boost the patriots' morale to continue to fight for independence.
Roadside Homage to the Hot Dog
Hot Dog Johnny's in Buttzville is a nostalgic roadside landmark that serves only hot dogs and French fries, plus birch beer in frosted mugs (and buttermilk if you're feeling adventurous!). Family owned and operated since 1944. Look for the giant hot dog sign!
Glow-in-the-Dark Sterling Hill Mine
Scientists still don't agree how the deposits at one of the nation's oldest mines were formed. It's a true geological mystery! You'll be mesmerized as you walk through Sterling Hill Mining Museum's Rainbow Tunnel, which is lined in fluorescent "glow-in-the-dark" zinc ore. Located in Ogdensburg.
New Jersey's High(est) Point (1,803 ft.)
See three states from the vantage (1,803 feet above sea level) of High Point Monument. Built to honor all war veterans, the monument is set within High Point State Park, which also offers hiking on 50 miles of trails, fishing and camping. Located in Sussex.
North America's Fifth Largest Cathedral
It took nearly 95 years to plan, build and ultimately complete the Cathedral Basilica of the Sacred Heart in Newark. Visit this National Historic Landmark to see its awe-inspiring French Gothic Revival architecture and famed stained glass windows.
For more on New Jersey's landmarks and monuments, download a free NJ travel guide or sign up for e-news from New Jersey Travel and Tourism.