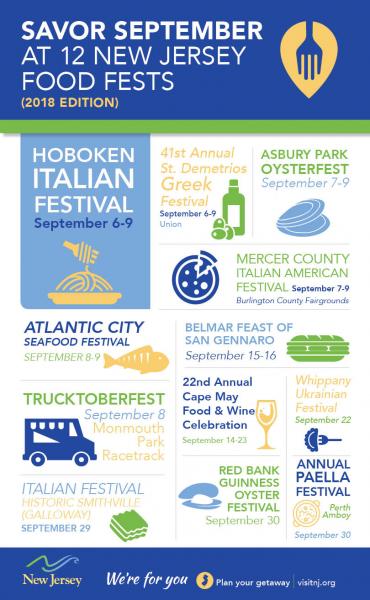 Need the recipe for September fun? Dig in to this smorgasbord of a dozen foodie events in New Jersey. From pierogies and paella to clams and calamari, you'll find plenty of delicious fare to savor all month long. Download and print this infographic, and add some flavor to your season. Oh, and come hungry!
Hoboken Italian Festival
Walk on over to the Sinatra Promenade for Hoboken's 92nd waterfront extravaganza on September 6 – 9. Experience international food, live music, fireworks, amusement rides and the "blessing of the feet." Thursday and Friday, 6  – 11 pm; Saturday and Sunday, 11 am – 11 pm.
41st Annual St. Demetrios Greek Festival
It's all Greek at this popular festival, which is held September 6 – 9 in Union. Enjoy traditional Greek dishes like moussaka and pastitsio, watch traditional folk dancing, and entertain the kids with rides and games. Thursday, 6 – 11 pm; Friday, 5 pm – Midnight; Saturday, Noon – Midnight; and Sunday, Noon – 8 pm.
Asbury Park Oysterfest
Sample everything from crab cakes to New Jersey craft beer at this three-day culinary event, which will be held at Bradley Park in Asbury Park on September 7 – 9. Of course, fresh oysters will be in plentiful supply. Friday, 5 – 10 pm; Saturday, 11 am – 10 pm; and Sunday, 11 am – 6 pm.
Mercer County Italian American Festival
After 18 years, this favorite fest has moved to a new location—and county! Head over to the Burlington County Fairgrounds in Columbus for an abbondanza of Italian-American favorites on September 7 – 9. Look forward to a food piazza, bocce, fireworks, Italian car show, amusement rides and more. Friday, 4:30 – 10 pm; Saturday and Sunday, 12:30 – 10 pm.
Atlantic City Seafood Festival
A crab cake eating contest? Sign us up! That's just one of the flavorful events planned for September 8 – 9 at Atlantic City's Bader Field. Enjoy seafood from 40+ restaurants and purveyors, the Great Brews of NJ tasting tent, a chowder cook-off, live sand sculpting and more. Saturday and Sunday, 11 am – 6 pm.
Trucktoberfest
Food trucks rule at this fun event at Monmouth Park Racetrack in Oceanport. Don't miss this chance to sample your faves before they park the trucks for winter. Lobster rolls to alligator burgers, plus a German-style beer garden. Saturday, September 8, 11:30 am – 5 pm.
Belmar Feast of San Gennaro
Italy comes to Main Street in Belmar on September 15 – 16 for a culturally rich and delicious experience. Live music, parades and food, food, food, including pasta and cannoli eating contests. Saturday and Sunday, 11 am – 6 pm.
22nd Annual Cape May Food & Wine Celebration
Get your gourmand on for a "Top 100 Event in North America" as Cape May pays homage to the finest in food and wine. This 10-day celebration (September 14 – 23) features everything from chefs' dine-arounds and a chocolate feast to a gourmet brunch walk and grilling at the vineyard. Times and dates vary based on individual event.
Whippany Ukrainian Festival
In addition to potato pancakes, pierogies and stuffed cabbage, this event spotlights seven talented Ukrainian dance ensembles—over 200 dancers in all! Taking place at the Ukrainian American Cultural Center in Whippany, stop in for the international beer garden plus live music. Saturday, September 22, 11:30 am – 7 pm.
Italian Festival
Don't worry, we're not done with Italian food yet! At Historic Smithville in Galloway, shop for imported Italian specialties; enjoy a live tribute to Louis Prima, Frank Sinatra and Tony Bennett; play bocce and eat! Buon appetito! Saturday, September 29, 11 am – 5 pm.
Red Bank Guinness Oyster Festival
This festival gets its Irish inspiration from the Galway Oyster Fest, which has celebrated the opening of oyster season for over 60 years. Enjoy a glass of Guinness with Irish and oyster dishes from 25+ of Red Bank's favorite restaurants. Live music on two stages. Sunday, September 30, Noon – 7 pm.
Annual Paella Festival
Enjoy the pick of the paella at this waterfront fest, which pits paella chefs in an epic showdown. Spain's classic dish will be served at Harborside Marina in Perth Amboy. Sunday, September 30, Noon – 6 pm.
Check out VisitNJ.org for other seasonal events or to download a free NJ travel guide and sign up for e-news from New Jersey Travel and Tourism.