Image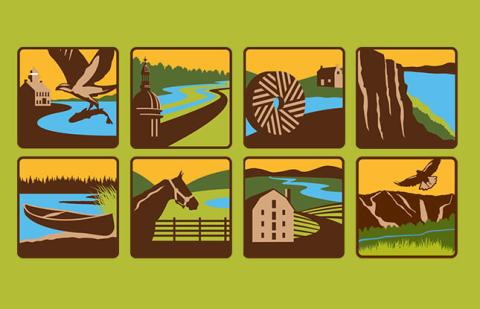 Hit the Roads Less Traveled on New Jersey's 8 Scenic Byways
DOWNLOAD OVERVIEW OF ITINERARIES
Exit the highway and cruise the New Jersey Scenic Byways, eight iconic routes specially designated for their scenic, natural, recreational, cultural, historic and archaeological qualities. They showcase roads less traveled, and local communities away from the hustle and bustle, revealing our diverse landscapes and telling stories unique to their regions.
You'll discover exhilarating adventure and fascinating points of interest in every direction, while experiencing the Garden State's authentic heart and soul.
Read summaries of each below. Then, download our five 3-day Scenic Byways Trip Itineraries, filled with more details, possibilities for stops and extra ideas for eclectic cuisine, fabulous shopping and chances to enjoy homegrown favorites.
For additional info, stops and directions, please visit the official New Jersey Scenic Byways website, provided by the NJ Department of Transportation.
 
Warren Heritage
19 miles
Celebrate some of New Jersey's rural roots in the Skylands Region. Along Route 57, our first paved road, explore pivotal landmarks in places such as Stewartsville, Broadway, Washington, Stanhope and Hackettstown.
Western Highlands
23 miles
Captivating country meets mountain escape on this National Scenic Byway, one of the most significant routes in the U.S. Head north through Sussex County to the New York border. Stop in Hamburg, Franklin, Stockholm, Sussex, Hewitt, Vernon and Highland Lakes, see distinctive mountain ridges, and step onto the Appalachian Trail.
Millstone Valley
25 miles
On this designated National Scenic Byway, follow the Millstone River and Delaware and Raritan Canal State Park corridor. Travel through centuries-long history, still evident in the sites and architecture of Kingston, Rocky Hill, Griggstown, Franklin Township, Millstone and East Millstone.
Palisades
19.1 miles
Along Palisades Interstate Parkway and Henry Hudson Drive, wind your way through wild Hudson River shorefront, woodlands and cliffs, facing New York City. This National Scenic Byway gives you access to 2,500 acres of Palisades Interstate Park—plus stellar skyline views from lofty lookout points. Stop in Fort Lee, Englewood Cliffs, Tenafly and Alpine.
Delaware River
34 miles
Journey along Route 29 on this National Scenic Byway, passing storied American Revolution and Industrial Revolution sites, plus today's New Jersey State House capitol building. Navigate to waterfront stops in Frenchtown, Stockton, Lambertville, Titusville and Trenton.
Upper Freehold
24 miles
Loop Monmouth County's country roads, enjoying a tranquil blend of vintage, small-town charm and wonderfully preserved farmland. Pause in peaceful Allentown, Imlaystown and Cream Ridge for agricultural and local history landmarks, including the Horse Park of New Jersey and the state's oldest Baptist Meeting House, from 1737.
Bayshore Heritage
142 miles
This National Scenic Byway spans nautical and wildlife highlights, colonial and Black heritage sites, and more. Discover splendid shoreline habitats, crossing over rivers and tributaries and passing through rolling farmland and historic villages. Anchor in Pennsville, Salem, Hancock's Bridge, Bridgeton, Fortescue, Port Norris, Maurice River Township, Cape May Point and Cape May.
Pine Barrens
130 miles
Trek through the New Jersey Pinelands. At 1.1 million acres, it comprises most of the Pine Barrens, our unique ecosystem. This National Scenic Byway promises five counties' worth of pristine wilderness, picturesque waterfronts and surprisingly diverse habitats and species. Stop in Hammonton, Tuckerton, Port Republic, Galloway, Mays Landing, Woodbine and Delmont.