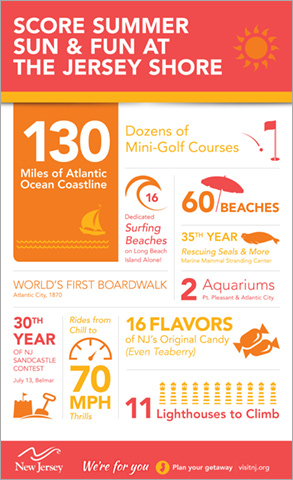 Ready for sandy beaches and sunny boardwalks? Yes, please! Start dreaming about your summer Jersey Shore getaway. Download and print this fun infographic that gives you a visual "scoreboard" of all the reasons why we're for summer at the Jersey Shore. It's perfect art for your refrigerator.
130 Miles of Atlantic Ocean Coastline
From Sandy Hook to Cape May, New Jersey's coastline offers miles of summer fun: surf fishing, swimming, sea kayaking, beach relaxing, surfing and so much more.
World's First Boardwalk (Atlantic City, 1870)
Do you prefer a peaceful stroll by the ocean or a walk on the wild side? Whatever your style, there's a Jersey Shore boardwalk for you, including the nation's oldest and longest boardwalk in Atlantic City.
60 Beaches
New Jersey offers more than 60 designated beaches, each with its own personality, from natural (Island Beach State Park) to family-friendly (Ocean City and The Wildwoods).
11 Lighthouses to Climb
Check out the 11 lighthouses open to the public in New Jersey, ranging from Sandy Hook Lighthouse, the nation's oldest standing lighthouse, to Absecon, the state's tallest lighthouse. Ready for 228 steps?!
Rides From Chill to 70 MPH Thrills
New Jersey's amusement parks are always a favorite Jersey Shore destination. At Casino Pier & Breakwater Beach Waterpark in Seaside Heights, adventure seekers can strap into the Skyscraper and get whipped around at speeds of up to 70 mph! Prefer life at a more leisurely pace? Enjoy ocean breezes and great views on the tranquil Sky Ride.
Dozens of Mini-Golf Courses
It's just not a summer family vacation at the Shore without a round or two of mini-golf. Find your perfect course and get ready to sink a hole in one.
16 Dedicated Surfing Beaches on LBI Alone!
Not only is surfing a popular watersport on Long Beach Island and along New Jersey's coastline, it has its own dedicated museum: the New Jersey Surf Museum.
16 Flavors of NJ's Original Candy (Even Teaberry)
Fralinger's has been making salt water taffy on the Atlantic City Boardwalk since the 1880s. Want to take a guess on what flavors are the most popular? (If you said chocolate, vanilla and strawberry, kudos!)
2 Aquariums  
Meet the creatures of the sea while at the Shore. See sharks and penguins at Jenkinson's Aquarium in Point Pleasant or view loggerhead sea turtles and moray eels at the Atlantic City Aquarium.
Marine Mammal Stranding Center
Now celebrating its 35th anniversary. Learn more about New Jersey's only rescue facility for marine life. In 2015 alone, the organization, located in Brigatine, rescued 62 stranded seals. Yes, seals in New Jersey!
30th Year of NJ Sandcastle Contest
This popular family outing is scheduled for July 13th at Belmar's 18th Avenue Beach. It's NJ's largest sandcastle and sand sculpting event!
For more Shore info, download a free NJ travel guide or sign up for e-news from New Jersey Travel and Tourism.