Image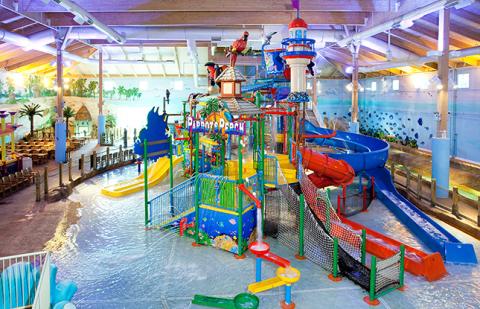 ​Delaware River winter fun & adventure—no snow required!
The pleasure boats and fishing charters may have pulled anchor for the season, but New Jersey's Delaware River Region is still motoring with activity all winter long—and not one of these fun outings or adventures requires a single snowflake…
Fish & Ships 
Right on the banks of the Delaware, you'll find the river city of Camden. Its thriving waterfront brings the fun year-round—starting with the family-friendly Adventure Aquarium. Plan for a three-hour visit to experience it end-to-end, top-to-bottom. Must-sees include the popular Shark Bridge, daily live feedings, Stingray Beach and Shark Tunnel. Top Tip: Advance online reservations are highly recommended to visit the aquarium. 

You can also explore a floating museum that just so happens to be the most decorated battleship in U.S. Naval history. Open weekends throughout the winter, the Battleship New Jersey offers interactive tours that will have you climbing ladders and navigating narrow passageways just like the vessel's own crews did in WWII, Korea and Vietnam.

Brews & Spirits
Speaking of craft beer, New Jersey's Delaware River Region has its fair share of breweries to enjoy. Spread your wings at Flying Fish Brewing Company, where you can join a tour and savor the hoppy flavors in their tasting room. Or sip sinfully good beers in the tasting room at Devil's Creek Brewery in Collingswood.

As for the spirits, we're not talking about whiskey or gin. The Burlington County Prison Museum is one of the most haunted buildings in the state. Of course, you can tour this out-of-commission jail during the day when the formerly incarcerated are on their very best behavior. Don't worry, you'll still hear all the spooky stories of murder, mayhem and executions by hanging.

Treats & Treasures
If chocolate is your vice of choice, you're in luck. The Michel Cluizel Chocolate Museum and Chocolatrium offers private small-group tours of its facility to demonstrate how they make their "single estate" chocolates—of course, you'll get to taste the goods too!

More charmed by vintage china than fine chocolates? Take a trip to the Historic Burlington Antiques and Art Emporium. With more than 65 individual antique and collectibles dealers offering furniture, primitives, toys, glass, pottery, trains, books, military collectibles, radios, paintings, photos, kitchenware, Depression glass, china, dolls, magazines, clocks, jewelry and more under one massive roof—if you can't find it here, you won't find it anywhere.

Shop & Awe
Combat the winter blues with some retail therapy. Cherry Hill Mall offers over 140 stores and boutiques for fashion and home, so you can shop 'til you drop. When you are ready to drop, refuel your body at one of the mall's convenient eateries or restaurants.

Thinking you would rather energize your kids' minds this winter? Look no further than the New Jersey State Museum. In addition to its many exhibits and collections, you can look to the stars in the museum's state-of-the-art Planetarium and engage in playtime in its Discovery Den.

Slides & Rides
Think water parks are only a summertime activity? Think again! Big Kahuna's Water Park in West Berlin is an indoor wonderland of aquatic play areas, water slides of all shapes and sizes and a relaxing lazy river.

Prefer rides to slides? Visit The Funplex. From the high-thrills XD Dark Ride, laser tag and Air Shot to classic amusements like bumper cars, arcade games, bowling and go-karts—the indoor adventure is almost endless.

Locals & Legends
This winter is the perfect time to check out the cultural scene in Downtown Collingswood with 2nd Saturdays celebrating live music and art.

Feeling nostalgic for your favorite band? The Scottish Rite Auditorium has an entertainment calendar packed with headliner concerts.
Steals & Steeds
If the holiday season adds up to cash and gift cards lining your wallet, the Gloucester Premium Outlets should be on your winter to-do list. It's one-stop shopping for all your favorite brands at discounted pricing, so you can stretch those dollars to the max.

Have a dog or horse lover in the family? Plan a visit to the Gloucester County Dream Park to enjoy events such as Community Fun Days, specialty horse breed shows, dog agility shows and much, much more.


But that's not all. You can discover even more winter fun and adventure in the Delaware River Region—and all around the state—when you download a free NJ travel guide or sign up for e-news from New Jersey Travel and Tourism.