Image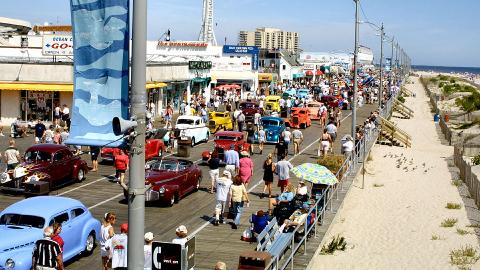 Boardwalks at the Jersey Cape
Life has its ups and downs, but on Southern New Jersey's Boardwalks, it's all part of the fun ... and the tradition. For more than a century, strolling the boards has been a must-do experience for visitors to New Jersey shore towns. Where else can you enjoy an eclectic carnival of exciting rides, charming shops and the irresistible smells of popcorn and cotton candy, all set against a backdrop of sea and sand? It's something that brings people back year after year.
It's a built-in tradition from family to family, says Michele Gillian and she should know. Her family and Gillian's Wonderland Pier have been a part of that tradition for three generations. The pier's founder, David Gillian, installed a merry-go-round and a Ferris wheel on the Ocean City Boardwalk 80 years ago and today the giant Ferris wheel still stands as a beacon to visitors. The first thing people see is that giant Ferris wheel, Gillian adds. That puts a smile on everyone's face. But the fun doesn't end there. In 2009, the Gillian's added to their family's important legacy as amusement park owners by opening the only new park in the United States.
Gillian's Funland is one of the newest landmarks in Sea Isle City. Located on the waterfront on 42nd Street, the park's Ferris Wheel is the first thing that you see when you enter the city. Funland offers the youngest tikes spinning, reeling, whirling fun. Gillian's Wonderland Pier in Ocean City has 38 wild and mild rides. While young adventurers can take to the air on a flying elephant or travel far in their imagination on mini-planes, trains and dune buggies, bigger kids can brace themselves for a hair-raising ride on the Runaway Train Coaster or a soaking spray on the Canyon Falls Log Flume. Families can buy as many or as few tickets as they want at this popular pay-as-you-go park.
For those who just can't get enough wild and wet fun, Gillian's Island Waterpark is another great place to spend a day. Slip along the Serpentine slides, navigate the shipwrecks in Lil' Buc's Bay or just let the current take you down the Lazy River. Afterward, stroll, shop, snack and sightsee along the city's two-and-a-half-mile Boardwalk. Rent a bike, grab a cool treat from Kohr Brothers ice cream or just sit on a bench and watch the tide roll in.
At the north end of the Boardwalk, Playland's Castaway Cove, Ocean City's oldest amusement park, offers more seaside fun, with a variety of unique amusements for kids of all ages, including mini-golf at one of 13 courses.



Wildwoods' Boardwalk also offers miles of smiles. With three amusement piers and three water parks, fun is a Wildwood Boardwalk tradition that began modestly with a seaside walkway in 1903 and continues today on Morey's Piers.
In 1969, brothers Bill and Will Morey slid into Wildwood history with the establishment of their 25th Street amusement pier and the installation of the Giant Slide. Since then, Will's sons, Will and Jack Morey, have embraced the spirit of Boardwalk ups and downs and expanded the family business to include more than 100 amusement rides and two water parks, spread over three piers. Visitors can roar through the sky on the Great Nor'Easter ride the slithering Sea Serpent or rattle over the giant slopes of the Great White. It's not all about roller coasters, however. Daredevils can take a death-defying plunge on the AtmosFEAR or enjoy a bird's eye view of the fun while high atop the Giant Ferris Wheel. Plus, there's dozens of kiddie rides to keep the smallest thrill-seekers smiling all day long. Visitors can pay for a day of fun or pay as they go with the MOR-EZ card.
If all that excitement leaves you longing for a vacation from your vacation, you can take a quick trip to a world where palm trees sway. Ocean Oasis, Morey's newest water park, offers the best of both worlds — thrilling water slides and a chilled out island resort theme where you can grab a poolside pina' colada and soak in the Caribbean atmosphere. The park also offers cabanas, concierge services, spa treatments and activity coordinators to keep kids of all ages entertained.
At Morey's Raging Waters park on Mariner's Landing, kids can walk the plank at Shipwreck Shoals or join in the fun at the Camp Kid-Tastrophe Interactive Play Area. Splash Zone water park on Schellenger Avenue offers whitewater twists and turns on its Beast of the East slide, as well as four tons of water fun that is released from the Giant Bucket throughout the day. When it's time to dry off, take a ride on the tram car or sample a taste of Wildwood tradition, including pizza from Sam's or Mack's and fresh-cut Curley's fries and just-squeezed lemonade. And there are still many sights to see! So no matter which Boardwalk you choose, you can be sure that each one will offer you its own fun traditions ... and miles and miles of smiles.