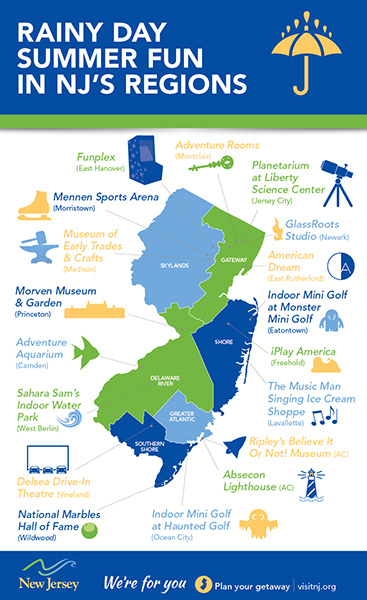 Are gray skies putting a damper on your outdoor plans? Turn those rainy day blues into a rainbow of great family memories. You'll find plenty of fun indoor attractions and "edutainment" throughout New Jersey's six distinctive regions. Download and print this map infographic to help you weather any forecast this summer.
Skylands
When it's hot and humid, do you dream of winter sports and sweater weather? Grab a cardigan and head over to Mennen Sports Arena in Morristown, where you can glide around the indoor ice rink year-round—advance reservations required and can be made here. If the weather is keeping you from going to the boardwalk, check out The Funplex in East Hanover, an indoor boardwalk with bumper cars, amusement rides, an arcade and futuristic Laser Tag arena. Be sure to purchase advance tickets here. And when the kids are complaining there's nothing new under the sun, show them something old on a rainy day. At Madison's Museum of Early Trades & Crafts, you'll experience what life was like for New Jerseyans 200 years ago. Part of the museum's allure is its location in the James Library, a stunning Richardsonian Romanesque building.
Gateway
Whatever the weather, Liberty Science Center in Jersey City is a great family outing—advanced ticket purchases are highly recommended. Explore the universe at the Jennifer Chalsty Planetarium, the biggest planetarium in the Western Hemisphere. Take a trip to the stars and beyond with the planetarium's dazzling shows. You can also brighten your day with a visit to American Dream in East Rutherford. This three-million-square-foot entertainment, dining and retail complex is home to the Western Hemisphere's largest indoor theme park. For more hands-on inside action with an artistic slant, sign up for a class or workshop at Newark's GlassRoots Studio. Or head over to Montclair to take part in a unique interactive group experience with your friends and family. Use your collective knowledge to find clues, decipher codes and solve the puzzles that will ultimately lead you to the key to escape at Adventure Rooms.
Shore
Forget windmills and wishing wells. Monster Mini Golf in Eatontown reimagines the popular summer attraction with an indoor glow-in-the-dark course featuring a cool soundtrack and animated monsters at every twist and turn. For more rainy day fun, check out iPlay America in Freehold, which has everything from Whac-a-Mole and go-karts to virtual bowling and live concerts. And if your family's Jersey Shore vacation is near Lavallette, plan a visit to The Music Man Singing Ice Cream Shoppe. Enjoy a vaudeville-style Broadway revue with your Stars & Stripes Sundae for a night out that's indoors.
Delaware River
Can't wait for Discovery Channel's "Shark Week"? See the real deal at Adventure Aquarium on the Camden Waterfront, which boasts the largest shark collection in the Northeast, not to mention a great hammerhead shark—advance tickets or reservations are a must to enter. Don't let the weather ditch your plans for the water park either. Make your online reservations for Sahara Sam's Oasis Indoor & Outdoor Water Park in West Berlin, and challenge your companions to a race on Tut's Twister, dual headfirst mat racing slides. History buffs and culture connoisseurs alike will be thrilled to visit to the Morven Museum in Princeton, former home to Declaration of Independence signer Richard Stockton as well as a roster of previous New Jersey governors. The museum's collection of fine, folk and decorative arts will bring a little sunshine to your day.
Greater Atlantic City
When raindrops start falling on your head, duck into the bizarre world of the Ripley's Believe It Or Not! Museum on the Atlantic City Boardwalk, and see shrunken heads, a roulette table made of over 14,000 jellybeans and other oddities. Then gain a whole new point of view of AC when you climb the 228 steps of the Absecon Lighthouse, New Jersey's tallest. In addition to its sweeping city skyline views, you can enjoy touring its tower, museum, gift shop and replica Lightkeeper's dwelling. 
Southern Shore
It's not technically "indoors," but you'll be sheltered from the elements in your own vehicle at Vineland's Delsea Drive-In Theatre, New Jersey's only drive-in. The Delsea combines a 1950s vibe with modern tech, first-run films, convenient online ticket sales and healthier food choices like edamame with sea salt. (Don't worry: you can still get chili fries, too!) For another dose of nostalgia, visit the National Marbles Hall of Fame in Wildwood to see memorabilia that honors the victors of the annual tournament. Or you can dodge the raindrops on the Ocean City Boardwalk at Haunted Golf, which combines indoor mini golf with spooky "PG-rated" surprises.
Discover more rainy day fun, as well as 10 free attractions in New Jersey for families on a budget, plus download a free NJ travel guide or sign up for e-news from New Jersey Travel and Tourism. And be sure to call ahead or check out your preferred attractions' official websites or social media pages before visiting so you don't get left out in the rain. 
*/